2,5-Dimethyl-2,4-hexadiene
【Chemical Name】2,5-Dimethyl-2,4-hexadiene
【Synonym】N/A
【CAS No】764-13-6
【Molecular Formula】C8H14
【Molecular Weight】110.20
【Structural Formula】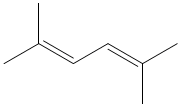 【Properties】Clear,colorless liquid; Boiling Point:132.0 - 134.0 deg C; Freezing/Melting Point:12.00 - 14.00 deg C; Flash Point:29 deg C ( 84.20 deg F); Specific Gravity/Density:0.7730g/cm3
【Specification】≥98% (GC)
【Packing】20-180kg/barrel.
【Conditions for safe storage】Store in cool place. Keep container tightly closed in a dry and well-ventilated place. Containers which are opened must be carefully resealed and kept upright to prevent leakage.
【Usage】Used as intermediate material in producing of pyrethrin,etc.
【Back】