【Chemical Name】2-Methyl-2-Adamantanol


【

Synonym】
【CAS No】702-98-7
【Molecular Formula】C11H18O
【Molecular Weight】166.26
【Structural Formula】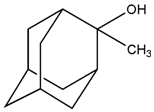 【Properties】White to off-white crystalline powder; odorless. Melting Point: 208-215 deg C; Soluble in organic solvents,insoluble in water.
【Specification】≥99% (GC)
【Packing】25kg/bag,Composite woven bag(plastic bag inside)or PE bag.
【Storage&Transportation】Store in a tightly closed container. Store in a cool, dry, well-ventilated area away from incompatible substances. Avoid to contact water or moisture during Storing&Transporting.
【Usage】Used in make Adamantane Derivatives and other pharmaceutical intermadiates.