【Chemical Name】trans-4-Aminoadamantan-1-ol Hydrochloride
【Synonym】4-amino-Tricyclo[3.3.1.1(3,7)]decan-1-ol hydrochloride
【CAS No】62075-23-4
【Molecular Formula】 C10H15ONH2·HCl
【Molecular Weight】219.74
【Structural Formula】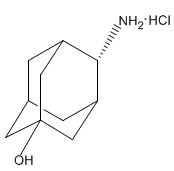 【Properties】white crystal powder, odourless; soluble in water, ethanol and chloroform, unsoluble in the acetone.
【Specification】≥99% (GC)
【Packing】25kg/carton
【Storage&Transportation】Store in a tightly closed container. Store in a cool, dry, well-ventilated area away from incompatible substances. Avoid to contact water or moisture during Storing&Transporting.
【Usage】Use to make intermediate of antivirus medicine.