【Chemical Name】1-Acetamidoadamantane
【Synonym】N-(1-Adamantyl)acetamide; 1-Acetamido-tricyclo[3.3.1.1(3,7)]decane
【CAS No】880-52-4
【Molecular Formula】 C12H19NO


【

Molecular Weight】193.29
【Structural Formula】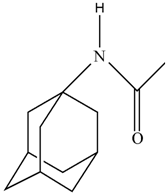 【Properties】white crystalline powder, Density: >1.0, Melting Point : 148.00 - 150.00 deg C, soluble in water.
【Specification】≥99% (GC)
【Packing】25kg/carton
【Storage&Transportation】Store in a tightly closed container. Store in a cool, dry, well-ventilated area away from incompatible substances. Avoid to contact water or moisture during Storing&Transporting.
【Usage】Use to make intermediate of antivirus mediclne for treating A2 type flu virus, Has antipyretic effect in the clinical pharmacology.