【Chemical Name】1-Adamantanethylamine
【Synonym】RIMANTADINE; 1-(1-Adamantyl)ethanamine; α-Methyl-1-adamantanemethanamine; Tricyclo[3,3,1,1(3,7)]decane-1-methanamine, alpha-methyl-;
【CAS No】13392-28-4
【Molecular Formula】 C12H21N
【Molecular Weight】179.30
【Structural Formula】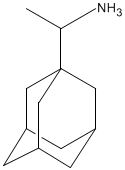 【Properties】white crystal powder; soluble in organic solvents; Density: 1.033 g/cm3(20/20 deg C);boiling point 248 deg C. Flash Point: 99 deg C; Enable to sublime; With camphor odor.
【Specification】≥99% (GC)
【Packing】25kg/carton
【Storage&Transportation】Store in a tightly closed container. Store in a cool, dry, well-ventilated area away from incompatible substances. Avoid to contact water or moisture during Storing&Transporting.
【Usage】Use to make intermediate of antivirus medicine for treating A2 type flu virus,most better than Amantadine Hydrochloride; Has antipyretic effect in the clinical pharmacology;Amend fremitus and anaesthesia of Parkinson's disease symptom.