【Chemical Name】1,3-Dimethyladamantane
【Synonym】None
【CAS No】702-79-4
【Molecular Formula】C12H22
【Molecular Weight】164.29
【Structural Formula】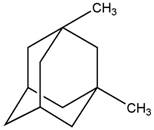 【Properties】Transparent clear liquid; Density: 0.8860g/cm3(20/20 deg C); Freezing/Melting Point: -30 deg C; Boiling Point: 204deg C;Flash Point: 52 deg C ( 125.60 deg F);refractive index:1.477-1.479; Soluble in organic solvents,insoluble in water.
【Specification】≥99% (GC)
【Packing】180kg/barrel
【Storage&Transportation】Store in a tightly closed container. Store in a cool, dry, well-ventilated area away from incompatible substances. Avoid to contact water or moisture during Storing&Transporting.
【Usage】Used in field of medicines,to make Memantine Hydrochloride Tablet,which treat dementia of the alzheimer type etc.