【Chemical Name】Dicyclopentadiene
【Synonym】Cyclopentadiene dimer; 3a,4,7,7a-Tetrahydro-4,7-methanoindene; DCPD
【CAS No】77-73-6
【Molecular Formula】C10H12
【Molecular Weight】132.2
【Structural Formula】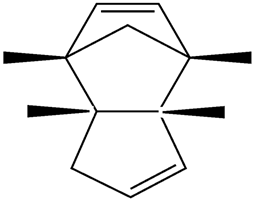 【Properties】Pale yellow clear liquid, with camphor odor; Boiling Point/Range:170 °C; Melting Point:-1°C;Flash Point:26°C;Autoignition Temperature: 503°C; Density:0.98; Insoluble in water. miscible in acetone and ethanol
【Specification】≥96% (GC)
【Packing】200kg/barrel.
【Storage&Transportation】 Use of fire is strictly prohibited. Seal the container air-tight and store it in a cool dark place. Keep it away from fire sources, such as fire,heat and light, Store away from oxidizing agents.
【Usage】Used as the material in producing adamantane, metallocene, pentanedial, norbornene, amino carboxylic ester, epoxy resin curing agent, CCMP(2-chlor-5-chlor methylpyridine), anti-flammability and chlorimated DCPD, and is widely used in the medical field along with other areas such as pesticide, spice, curry and synthetic rubber. Besides, dicyclopentadiene is a kind of high-energy fuel.