【Chemical Name】endo-Tetrahydrodicyclopentadiene
【Synonym】4,7-Methano-1H-indene; octahydro-, (3aα,4α,7α,7aα)
【CAS No】2825-83-4
【Molecular Formula】C10H16
【Molecular Weight】136.26
【Structural Formula】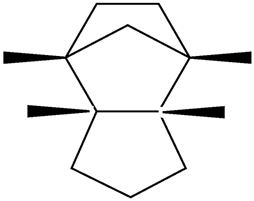 【Properties】 White crystalline powder; Density: 0.968g/cm3(20/20 deg C); Melting Point: 76 - 77 deg C; Soluble in organic solvents,insoluble in water.
【Specification】≥98% (GC)
【Packing】180kg/barrel.
【Storage&Transportation】Use of fire is strictly prohibited. Seal the container air-tight and store it in a cool dark place. Keep it away from fire sources, such as fire,heat and light, Store away from oxidizing agents.
【Usage】Used in field of medicines, pesticides, photosensitive and IT materials etc..