【Chemical Name】exo-Tetrahydrodicyclopentadiene
【Synonym】exo-Tricyclo[5.2.1.0(2.6)]decane; (3aα,4β,7β,7aα)-octahydro-4,7-methano-1H-indene;JP-10
【CAS No】2825-82-3
【Molecular Formula】C10H16
【Molecular Weight】136.26
【Structural Formula】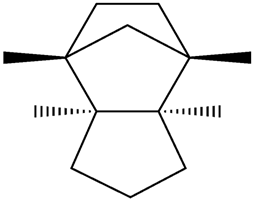 【Properties】Pale yellow clear liquid, Nearly odorless; Boiling Point/Range:185 °C; Melting Point:-79 °C;Flash Point:55°C;Autoignition Temperature: 236°C;Vapor Density: 4.73;Density:0.94;Soluble in : Alcohol Ketones Hydrocarbon solvent, Insoluble in: Water.
【Specification】≥98% (GC)
【Packing】180kg/barrel.
【Storage&Transportation】 Use of fire is strictly prohibited.Seal the container air-tight and store it in a cool dark place. Keep it away from fire sources, such as fire or heat source.Store away from oxidizing agents.
It should be handled in a controlled exhaust environment. Avoid formation of aerosol.Handling is performed in a well ventilated place. Be careful not to cause leakage, overflow, or dispersion. Steam should not be generated unnecessarily. Use of high temperature materials, sparks,and fire is forbidden in proximity. Take measures to prevent the build up of electrostatic charge.Use explosion-proof equipment.
【Usage】Used as hi-power fuel, in field of medicines, pesticides, photosensitive and IT materials etc.